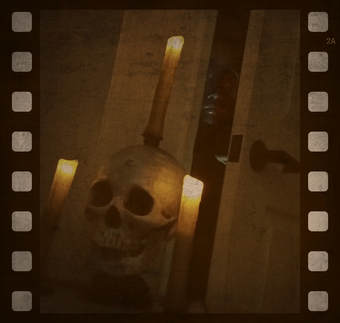 Do movie studios play fast and loose when they say a movie is "based on a true story" (BOATS)?
Heck yeah!
The cinema has been a source of inspiration for my art. SciFi and the superhero genres being some of my favorite types of movies.
However, lately, I find myself watching more "based on a true story" movies. And I find them more hit than miss as far as entertainment goes.
But, seeing a new movie trailer led me to a conversation recently about what exactly "based on a true story" means when it comes to movies.
This conversation was started by the trailer for the movie
The Strangers, Prey at Night
. I saw the first
Strangers
movie which was also touted as being BOATS.
When I watch a BOATS movie, good or bad, it inspires me to do a bit of research about the real history. I'm fascinated by how historically accurate or inaccurate a movie is, and how and why directors or studios stray from real events.
The first
Strangers
movie was frightening, unsettling and entertaining. But, was mostly fictional.
Strangers
writer, Bryan Bertino started developing the movie from his childhood memory of a group a strangers going house to house in his neighborhood, knocking on doors. If someone answered, they asked for some random person and moved on. If no one answered, they rob the house. That memory and the story of the Manson murders were his inspiration.
So really, beyond strangers knocking on the door and seeing if someone answers, the events and characters of the movie are entirely fictional.
Now, I realize that all movies take creative license for a number of reasons. Sometimes BOATS movies, veer off history to condense the story, highlight certain events, tell the story from a different point of view...etc, etc.
Some movies are fairly accurate like the Winston Churchill biopic,
Darkest Hour
. And some are notorious for being historically inaccurate like the William Wallace biopic
Braveheart
. Both entertaining movies BTW.
...But, my favorite reason movie productions stray from historical events, (said with sarcasm) is just to fill seats. They advertise a movie with the magic phrase "based on a true story" in hopes that more people will watch it.
If a movie can't stand on its own merits as a well told, cinematic story, then it's gonna suck no matter what you call it.
The director of
Strangers, Prey At Night
, says the sequel is loosely based on the same true events as the first film and therefore BOATS.
Well, by that logic the Chucky franchise could be considered based on a true story. There are a lot of haunted dolls for sale on Ebay. And Marvel's
Punisher
could be considered BOATS. We do have real-life vigilantes.
On the other hand, the movie
Tag
, a story about a group of friends playing the same game of tag for decades, seems to be more true to life despite the outrageous premise and the crazy things shown in the trailer.
So the next BOATS movie you see, take the events depicted with a grain of salt.
What's your opinion? Are movie makers trying too hard to make their movies attractive just by advertising it as BOATS? Leave your thoughts in the comments below.