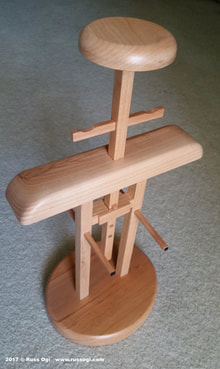 I decided to start construction of the model with the wood stand. The assembled stand is pictured to the left.
From my understanding, the wood stand that is included with the model is of the more traditional configuration.
The other version I've commonly seen looks a bit like the Blair Witch stick figure.
I decided not to glue the stand together so the stand could be disassembled when the armor was stored. This is also a traditional aspect of wood stands.
You can read more about the construction of the stand in my build diary on the
ModelSpace Forum
.
The stand provided with the model includes a nice heavy wood base that provides enough weight to counterbalance the armor.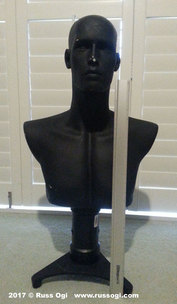 For my own full size armor designs, I originally used a fiberglass mannequin. However, shipping a mannequin, even just a torso was size and budget restrictive.

When I started to travel and show my armor designs at expos, I had to rethink my stand design. That became a project of its own.

I ended up custom making stands. I used PVC pipe as it was readily available and easy to work with. I could also easily make a stand that could be disassembled for shipping or storage.

My travel stand for full body armor was based around an inflatable mannequin torso with the PVC frame.

The inflatable mannequin provided the bulk to fill out the do (torso) armor but was light weight and portable. The PVC frame would handle the weight of the armor.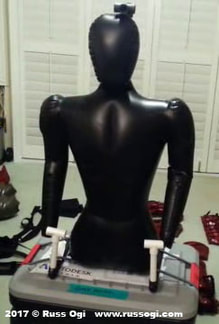 Based on my experience with this model, I'm considering a configuration closer to a more traditional stand.

One of the tricks however, would be avoiding a heavy base in favor of one that is lightweight but could still provide stability.

Please share any thoughts or ideas you have about the design of armor stands in the comments below.