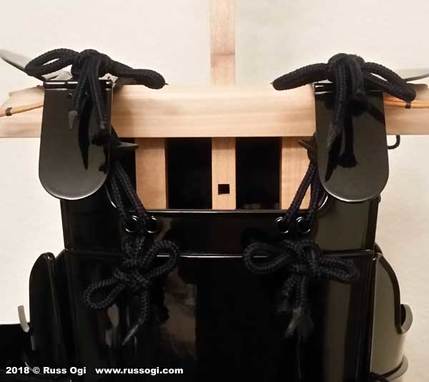 What Knot To Do? That's the question I was faced with when working on the Do (torso armor) of my Samurai armor replica.
If you've been following my build. Thank you. If so, please skip the next three paragraphs explaining this project.
To get more insight into my own armor designs, I am constructing a half-scale model (about 2.5 feet tall when completed) of Feudal Lord, Date Masamune's Samurai armor.
This blog continues with my hands-on study of the design and construction of traditional samurai armor.
If you're new to my project, welcome. If you would like to read this blog series from the beginning start
here
. I am also writing a build diary on the ModelSpace website
here
. In the build diary, I detail the steps taken in the construction of the replica. My blog here will focus on my thoughts and insights from this project.
I deviated from the instructions with the knots on the shoulders. The instructions show creating faux knots by looping cord and gluing them in place.
There are often knots in various locations on Samurai armor. Some are purely decorative, others also have practical applications.

I had not included knots in my own armor designs previously, and this was my first experience with the knots on traditional armor. It seemed odd to me that Japan armorers would glue rope to create knots rather than tying a knot.

Doing some research, I could not find references to the same knot shown in the instructions (pictured right).

The knot I found most often in various parts of Samurai armor was the

agemaki

. I've heard it referred to as the dragonfly or clover knot.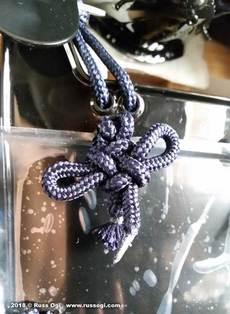 I decided to use this as the knot on the shoulders of the model. I managed to find both video and diagram instructions on the creation of the knot online.

The cords provided with the kit were a bit short for an agemaki. Understandable since they weren't intended for that type of knot.

The agemaki usually have, and look better with, longer tails with full tassels at the ends. Pictured to the left is how my knots ended up. Perhaps down the road, I'll change the existing cords for longer ones.

The knots are one of the elements of traditional Samurai armor that I probably would never have looked into had I not started this project. It led me to learn more about knot tying, their variations, and their meanings.

After working with the agemaki on the Masamune armor, I'm interested in including knots on some of my future armor designs to add another level of traditional aesthetic.

Anyone knowledgeable in knots especially as they relate to the Samurai armor please leave a comment below.​