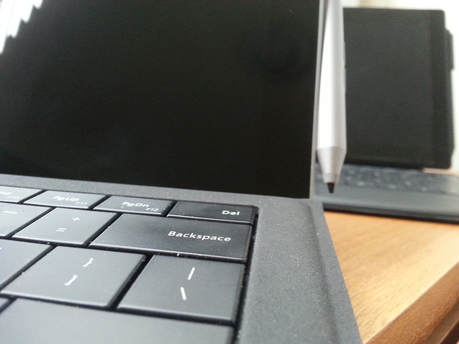 The Surface Pro 4 was recently announced so was the Surface Book. Both computers were of great interest to me.
So with that being said, I am not normally an early adopter, especially of technology. In fact, when it comes to computers, I usually run it until it dies or it can't run the software I need.
One of those exceptions was the Surface Pro. upgrading from an
Android tablet
, I bought the first gen Surface Pro as soon as it was available. I did forego the second Surface Pro. While It did address some of the limitations of its predecessor, I felt that it didn't offer a significant enough of an upgrade in performance and form factor for me.
The Surface Pro 3 was a huge jump from the first gen. I pre-ordered it and got it as soon as it was available. I have not been disappointed.
One of my initial fears was Microsoft's use of the N-Trig technology. One of my main uses was as a digital sketchbook. I did research the differences between N-Trig and Wacom technology especially the pressure sensitivity. I found this great
article
. It was one of the deciding factors for me.
Ultimately, I was sold enough on the N-Trig technology to move forward and purchase a Surface Pro 3.
I am temped to purchase the Surface Pro 4. I like a lot of the improvements. But the Surface Pro 3 is holding up well for me so far, and the improvements don't seem like they would impact my work too much. I am hoping that there will be a big leap in improvements from gen 4 to 5 like there was between gen 2 to 3.
I like the Surface Book form factor. It sounds like it will be the solution for many people looking for more battery life or processing power. It will also be the solution for those who want the "laptop experience". For me, the Surface Pro 3 has great processing power for what I do and decent battery life. I also don't often use it in my lap.
The lighter weight and slimmer profile of the Surface slate form factor is more beneficial to me than a larger longer lasting battery. I'm on the road sometimes and I don't know if I'll need my computer or not. I also sometimes find myself with some time to kill especially when plans change at the last minute.
In either case, the Surface Pro 3 is small and light enough for me to carry just about all the time. So I have full computing power handy all the time.
So I don't see myself being in the market for the Surface Book. But I do see a solid place for it in the Microsoft Surface product line.
Please leave your thoughts about the Surface Pro 4 or the Surface Book in the comments section below.