Fujin and Raijin Kabuto 3D printed in bronze at the i.materialise booth at the Maker Faire Tokyo 2015. Essay describing the helmets provided by Yui Takahara of i.materialise.
The bronze miniatures of the Fujin (god of wind) and Raijin (god of lightning and thunder) kabuto (helmets) were on display at the Tokyo Maker Faire. Big thank you to Yui Takahara and her amazing team at i.materialise.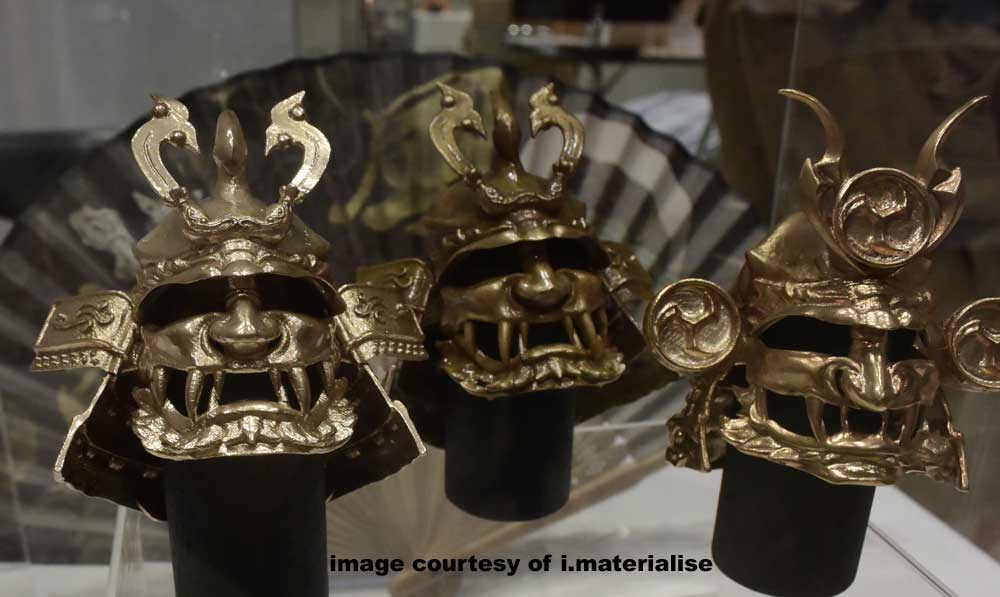 Fujin Kabuto natural bronze with Polyurethane (PU) coating (left), Fujin Kabuto with patina (middle) and Raijin Kabuto natural bronze with PU coating (right). Pictures by Yui Takahara
The patina on the center kabuto came out more subtle than I would have liked. I really wanted a greater contrast between the raised areas and recesses to really pull out the details.
As a result, the contrast between the PU coated bronze and the patina are not as striking in pictures. You can read about the patina process I used in here in English or here in Japanese. Japanese translation provided by Yui Takahara.

I took a series of shots to get a pictures that captured the effects of the patina for the blog post.

Please let me know what you think of the designs, the patina or the patina process in the comments below.