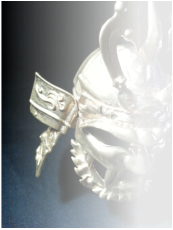 A little while back I had the honor of designing a couple of kabuto (Samurai helmets) to kick off the i.materialise and Modelab Kabuto Design Challenge. I also had the honor of serving as a judge.
You can view all the entries
here.
The winners were announced
here
(announcement in Japanese only)
There were some truly amazing designs. Here is a run down of the winners with pictures of them printed in bronze by i.materialise. All pictures are courtesy of i.materialise.

1st Place:
Tsuru Kame Kabuto by Kawatan
The Tsuru (crane) Kame (turtle) kabuto puts an interesting spin on the "classic" kabuto profile by utilizing a lacy pattern to create the kabuto form resulting in a nice contrast of visuals. The maedate (front crest) contains an elegant blend of line art elements flowing into 3D sculpted forms.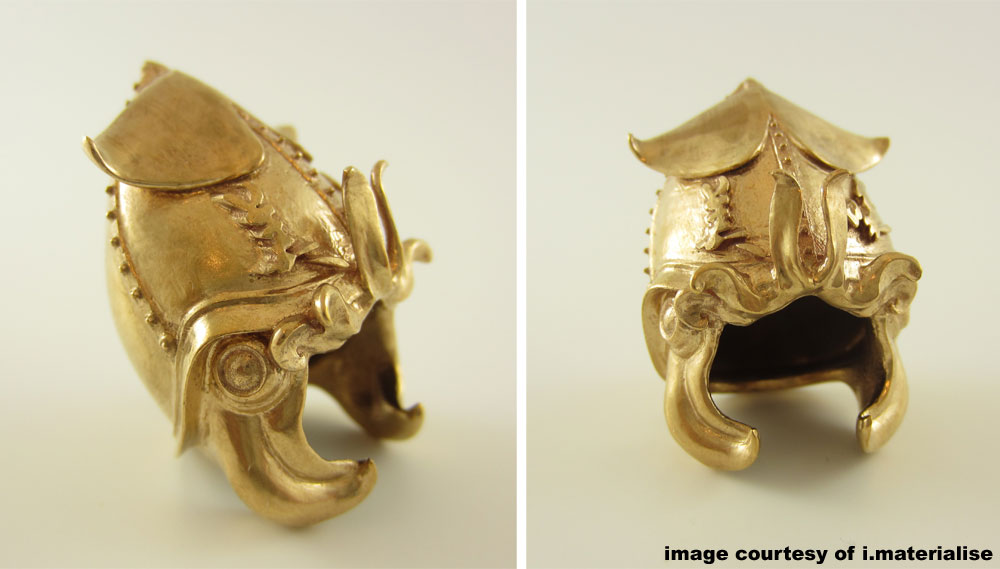 2nd Place:
Ika Kabuto by Nao
The Ika (squid) Kabuto has a great sculpt with a nice balance of broad and fine details with clean lines. It has a great combination of organic and inorganic forms giving it a bio-mechanical feel. Very imaginative to utilize the tentacles to form the maedate (front crest) and mabizashi (visor).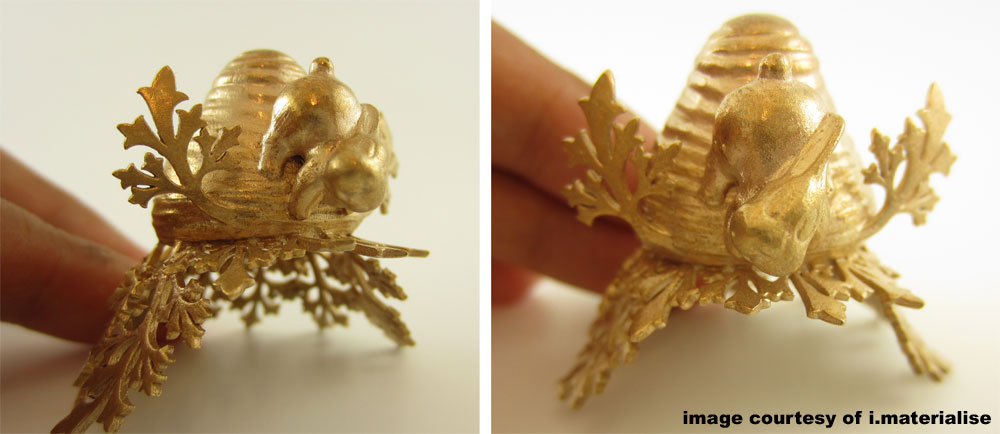 3rd Place:
Usagi Kabuto by Nao
The Usagi (rabbit) helmet was especially intriguing and clever. At first glance, what I saw was the carrot with a rabbit. However, the more I examined it, I began to see the fukigaeshi (side protective wings), shikoro (neck guard) and mabizashi (visor) formed from the carrot leaves.
In the context of a kabuto, the rabbit is then perfectly placed as the maedate (front crest). I really enjoy designs that present themselves as one thing but more is revealed as you examine the design.
おめでとうございます Congratulations to the winners! どうもありがとうございました Thank you to all who entered.
If you are in, or visiting Japan on August 1-2. The winning helmets as well as my Fujin and Raijin kabuto will be on display at the i.materialise booth at the Tokyo Maker Faire. As great as pictures are, nothing beats seeing these kabuto in person.
Please leave any thoughts you have about any of the designs in the comments below.